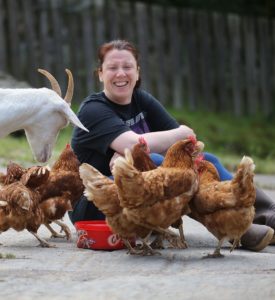 Established in 2013 and operating social farms since 2014, Kerry Social Farming (KSF) was founded on principles of equality, social inclusion, voluntary community development and collaboration. It is currently the only voluntary model of social farming in Ireland in that farmers are not paid for their time with participants. It is a locally-led, community-based, shared service that provides farming and social inclusion opportunities to people with intellectual disabilities and acquired brain injuries, all within local communities. Support for social farming in Ireland, including Kerry Social Farming, comes primarily from the Department of Agriculture, Food & Marine (DAFM) through its Commission for Economic Development of Rural Areas (CEDRA) Rural Innovation and Development Fund. As well as its fit with CEDRA, KSF is also aligned with Kerry's Local Economic & Community Plan and receives support through the Social Inclusion and Community Activation Programme (SICAP). HSE's New Directions provides the framework for the governance, planning and implementation of KSF based on person-centredness, community inclusion, active citizenship and equality.
As of January 2019, KSF supports 31 participants on 18 host farms throughout Kerry.
See the latest video here and the latest coverage here!
For further information, please call us at:
066 947 2724
or email us at: